AQUALYX fat-dissolving is an injectable treatment meant to target and melt away stubborn pockets of fat on the body.
How it works is that AQUALYX is a compound solution from the deoxycholate family that has been physically modified and, by creating a slow release sugar-based system, the biological half-life is reduced which results in minimal side-effects.
TREATMENT
AQUALYX fat dissolving treatment may need to be repeated between two and eight times depending on the number of small pockets of fat tissue to be reduced. If another treatment is required this is repeated ever 6 to eight weeks but can vary on individuals. After each treatment patients can expect some swelling, bruising redness and skin irritation and tenderness in the area is treated, which will subside after 4 to 6 days.
Contraindication to AQUALYX fat dissolving treatment: Pregnancy and lactation, lipodystrophy and pathological conditions.
QUICK RESULTS
How quickly will I see results? AQUALYX fat dissolving offers a reduction in fat deposits which can usually be seen after just one treatment, however between three and eight sessions are
required to see the optimal effect. The speed at which results are seen will vary depending on the stability of the cell membranes.
BENEFITS OF AQUALYX (FAT DISSOLVING INJECTIONS)

Non-invasive instant fat removal
Minimal downtime
Walk in, walk out treatment
Results can be seen after just one session
Can treat a range of areas on the body
Assist in weight loss by targeting stubborn areas of fat
WHAT AREAS CAN BE TREATED
Acrylics injections are most effective in removing and contouring areas of the body such as:
Under the chin
Upper arms
Inner arms
Bra bulge
Back
Upper Abdomen
Lower Abdomen
Love handles
Hips
Outer thighs
Inner thighs
Knees
 
For a free consultation make an appointment at Kimaya Beauty today!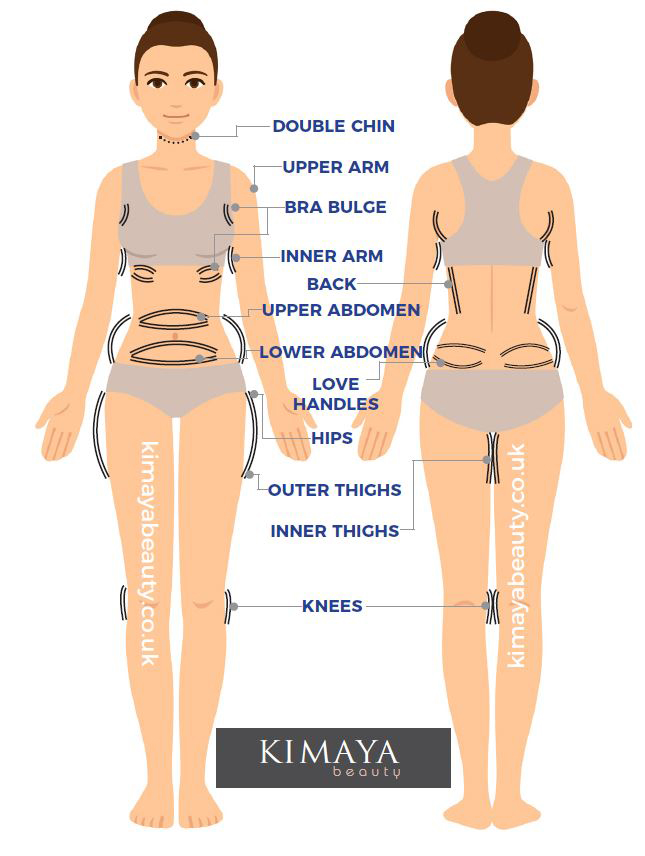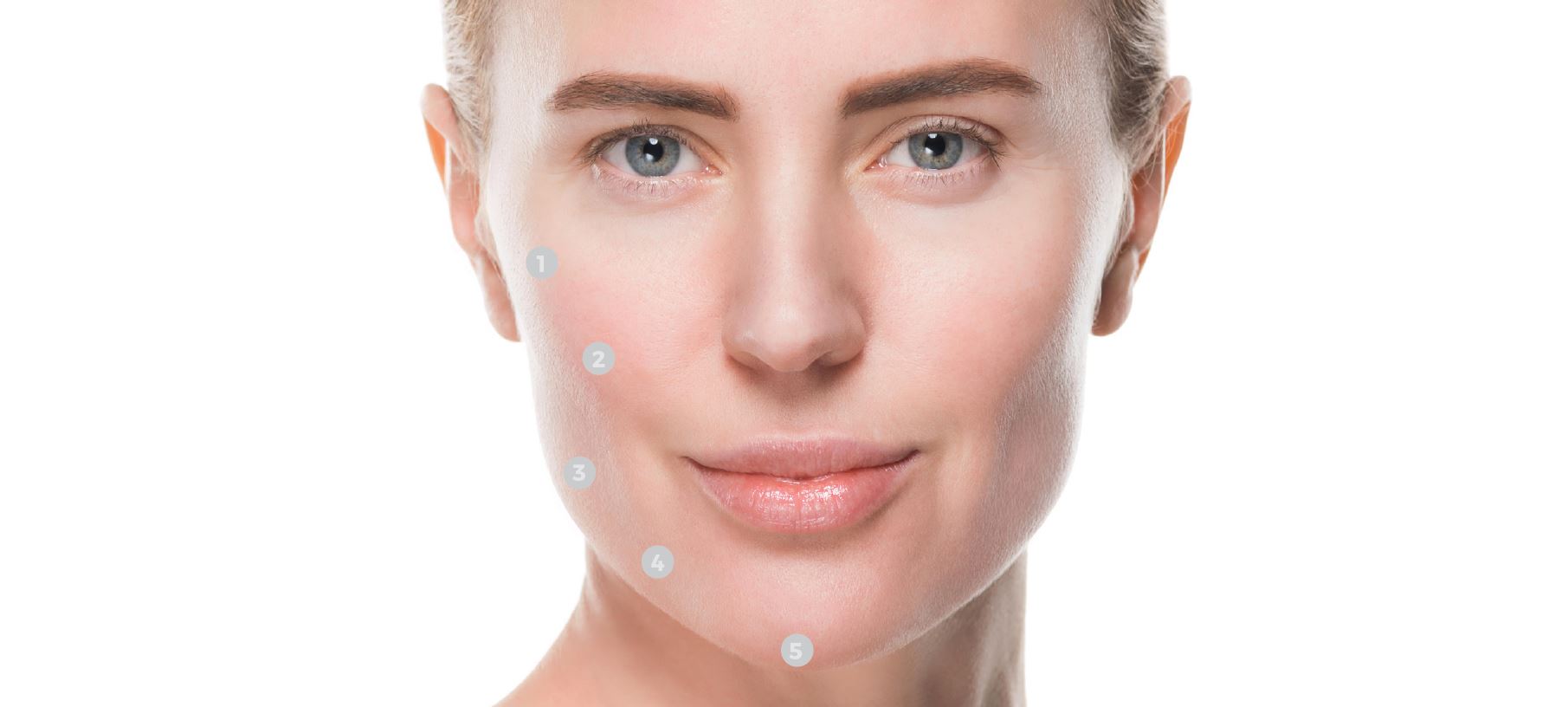 PROFHILO

Hydration - Structure - Volume

Give your skin the boost it deserves and have glass skin Profhilo is an innovative treatment for the improvement of dry and ageing skin. Profhilo improves skin firmness, tightness and quality. It is considered as a fantastic 'true breakthrough' in anti-ageing treatments.
Profhilo is the world's first BDDE-free pure/stabilized injectable hyaluronic acid (HA) for skin laxity treatment. It has one of the highest HA concentrations available.
Young skin is constantly moisturised from within by hyaluronic acid (HA), a naturally occurring sugar. To provide hydration, structure, and volume, it draws and holds water. With age, the levels of HA in the skin decreases dramatically, causing skin to become dry and lose volume, as well as wrinkles and grooves. The skin is also pulled down by gravity, resulting in folds and sagging.
Low molecular weight HA is slowly released from the HA hybrid complexes in Profhilo, providing moisture to the skin throughout the epidermis — this is known as the 'Hydro effect.'
BENEFITS
Profhilo is a skin tightening and sagging treatment. Skin is boosted and hydrated, and the ageing and sagging tissue is remodelled.
For a free consultation make an appointment at Kimaya Beauty today!
A complete range of brow and lash treatments that will enhance the natural beauty of your eyes. Whether you are looking for perfectly preened brows or fuller natural looking lashes, these treatments will transform even the most unruly, sparse or over-plucked brows into perfect arches. Individual eyelash extensions and eyelash tinting treatments are also available to give a your lashes extra colour and volume that lasts.
Individual Eyelash Extensions
Individual lashes applied to existing lashes for a natural semi-permanent effect, that enhance and extend, adding
Instant volume and glamour.
We also offer Individual, Russian, 3D, 6D and mega volume lashes.
If you're searching for lashes that will wow, our Lash Treatments are perfect for you. A lash extension treatment involves applying individual synthetic lashes onto each natural eyelash to add extra length and volume. They're perfect for holidays, a big event or just perfect lashes every day.
These light, comfortable and natural looking eyelash extensions are available in a variety of curls, lengths and thicknesses, ideal for creating the look you want.
Our lashes and adhesives are innovatively designed, that can last the length of time of the growth cycle of your natural lashes. To keep them looking fabulous for as long as possible, we recommend eyelash top-ups or in-fills every two to three weeks.
If you look after your lashes properly and follow the correct aftercare and removal, then your natural eyelashes should be absolutely fine. At Kimaya Beauty Salon, your professionally trained eyelash extension therapist, will apply your lashes and advise you with aftercare information.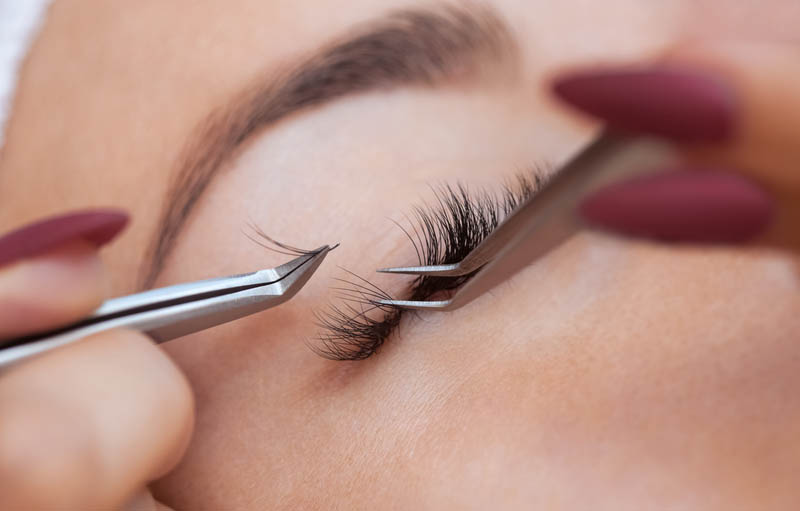 Natural Lash Treatment
Natural lashe treatment are one extension applied to one natural lash only, therefore if you only have 50 suitable natural lashes per eye, then you will only achieve a look of 50 eyelash extensions, whereas if you have 100 natural lashes per eye then you will achieve a look of 100 extensions per eye.
Classic lashes are suitable for the following client:
Clients that have a good amount of healthy natural lashes
Clients that are younger and have few gaps in their lash line
Clients that desire a natural/medium effect
Russian - 3D - 6d and Mega Volume
Russian Volume is an extremely advanced technique that only the experienced and highly skilled technician can offer!
These lashes are ultra-fine synthetic lashes that are made from the same soft fibre as classic lashes. Because they're much thinner, the therapist is able to apply more lashes to each natural lash.
Russian Volume is the most versatile lash treatment that we offer, and will suit most clients. Russian Volume is perfect for the older client with sparse natural lashes, where extra coverage and a soft fluffy look is required (light weight volume set 3D/4D). Russian Volume is also suitable for the client who desires a more glamorous and thicker looking set than can be achieved with classic lashes (heavy weight volume set 5/6D & more). The level of fullness can vary with Russian Volume, which allows us to create the effect suited to the client's requirements.
We require you to have a patch test at least 24 hours prior to treatment to ensure you do not have an allergic reaction.
Book your free Consultation today!
Eyebrows & Eyelash Tinting
What is Eyelash Tinting?
Your eyes are gorgeous, and your lashes too. But imagine what professional eyelash tinting and eyebrow tinting will do for the depth and colour of your eyes and the definition of your face. And if you simply can't stay out of the water, imagine not needing mascara.
Eyelash tinting involves carefully dying the lashes with safe, natural tints, to give them a natural, luscious, darker appearance. Many different eyelash and eyebrow tint colours are available so we can complement your skin and hair colouring perfectly.
Who can benefit from Eyelash and Eyebrow Tinting?
Do any of these situations sound familiar?
You do lots of sport, especially swimming
You're sensitive to make-up
You find the daily make-up ritual too time consuming
You've got very fine eyebrows – an eye brow tint will help
You simply want to enhance your looks
You don't like the 'panda eyes' that can result with mascara
You're a contact-lens wearer who's tired of the hassle of applying mascara
What does a typical Eyelash or Eyebrow Tinting session involve?
24 hours before every brow or eyelash tint we'll do a patch test; this is essential to ensure that you aren't sensitive to the tint. Once we know there's no reaction, we'll agree the best eye lash tint for your hair and complexion. The tinting, involving careful application of safe natural dyes to your lashes, takes about 15 minutes and can last up to six weeks.
We require you to have a patch test at least 24 hours prior to tinting to ensure you do not have an allergic reaction.
Book your free Consultation today!
LVL Lashlift (Length, Volume and Lift)
This is what all of us ladies have been waiting for, long, luscious lashes with no need for lash extensions.
The Lash Lift is long lasting, giving your eyes a natural wide-eyed look for up to six weeks. This treatment curls the hairs from the root giving lashes instant Length, Volume and Lift and also includes tinting to the top eyelashes. We require you to have a patch test at least 24 hours prior to tinting to ensure you do not have an allergic reaction.
A completely natural look given a wide eyed appeal to your eyes. The stunning alternative to lash extensions! LVL has been designed to enhance your natural eyelashes by straightening them rather than curling to create the illusion of Longer, Thicker lashes.
The treatment takes between 45minutes to 1 Hour minutes depending on the length and quality of your natural lashes.
No adhesive or lash extensions used
Treatment takes 45 minutes
No mascara needed
Lasts up to 6 weeks
Results are immediately visible
Low Maintenance and long lasting

While lash extensions can be a great solution for some people, there are a large number of people who want the
natural look/alternative while still achieving that 'Big Lash Look' Until LVL Lashes the only treatments available were unsatisfactory perming techniques.
What are LVL Lashes?

LVL is an exciting new eye lash treatment that can provide you with longer looking lashes without the need for lash extensions or harsh perming techniques. LVL lashes produce stunning results quickly. Roughly 45 minutes of LVL can last up to 6 weeks.
We require you to have a patch test at least 24 hours prior to treatment to ensure you do not have an allergic reaction.
Book your free Consultation today!
HD Brows (High Definition Brows)
HD Brows is the UK's No.1 salon brow treatment. We're proud to be experts in brows! So if you've been on the search for your perfect brows, you've found the right place!
What's different about HD brows?
HD Brows differ to many other treatments as we don't believe in a one shape fits all ethos. Brows are as individual as fingerprints and so each step of the HD Brows treatment is completely bespoke from the personal consultation, shape design, tailoring and aftercare process.
What does the HD Brows treatment involve?
Consultation

From brushed up brows to neat and defined as well as everything in-between – choosing the right brow look can be difficult. This is why each and every HD Brows treatment starts with a consultation, where not only can you choose your desired brow look, but we will help you every step of the way with recommendations based on your face shape, skin tone and of course, your style.

Custom-Blended Tinting

We follow the same 'one shape doesn't fit all' ethos throughout every part of the treatment, including tinting. We custom-blend our bespoke HD Brow Dyes to create the perfect tone to complement your skin tone, hair tone and overall style.

Hair Removal

We use our exclusive brow mapping formula to design your unique shape before using a combination of High Definition hair removal techniques including waxing, threading, tweezing and trimming – all to create the perfect brow shape for you.

Finishing

Finally your brows will be perfected using our brow make up collection to create your perfect look!
To book your appointment, call us today.
Perfect Brow
Threading is an ancient method of hair removal (over 5000 years old) which originated in India, it may seem like a simple hair removal method, but it takes an experienced technician to make it work beautifully. They begin with a loop of cotton thread that is about the thickness of dental floss. Then, they twist the loop to create a series of "knots" in the middle.
Finally, practitioners move the twisted area rapidly back and forth across rows of hairs, grasping them at the root and removing them quickly and completely. No chemicals or other tools are needed and it is ultra hygienic.
Eyebrows frame your features and add structure and definition to your face, so there's no denying the merits of having them professionally threaded.
We also offer threading for Upper lip, chin, forehead, cheeks and neck. The treatment takes between 5 and 30 minutes depending on the length and amount of hair that need removing.
Have the shape of your Eyebrows, Professionally Designed at Kimaya Beauty Salon today!
No matter what your current eyebrow situation, you can get beautiful and perfectly shaped brows that complement your face. At Kimaya Beauty Salon, we understand the science of shaping your eyebrow, taking into consideration the eyebrow thickness, curvature, length and position, relative to the structure and shape of your face.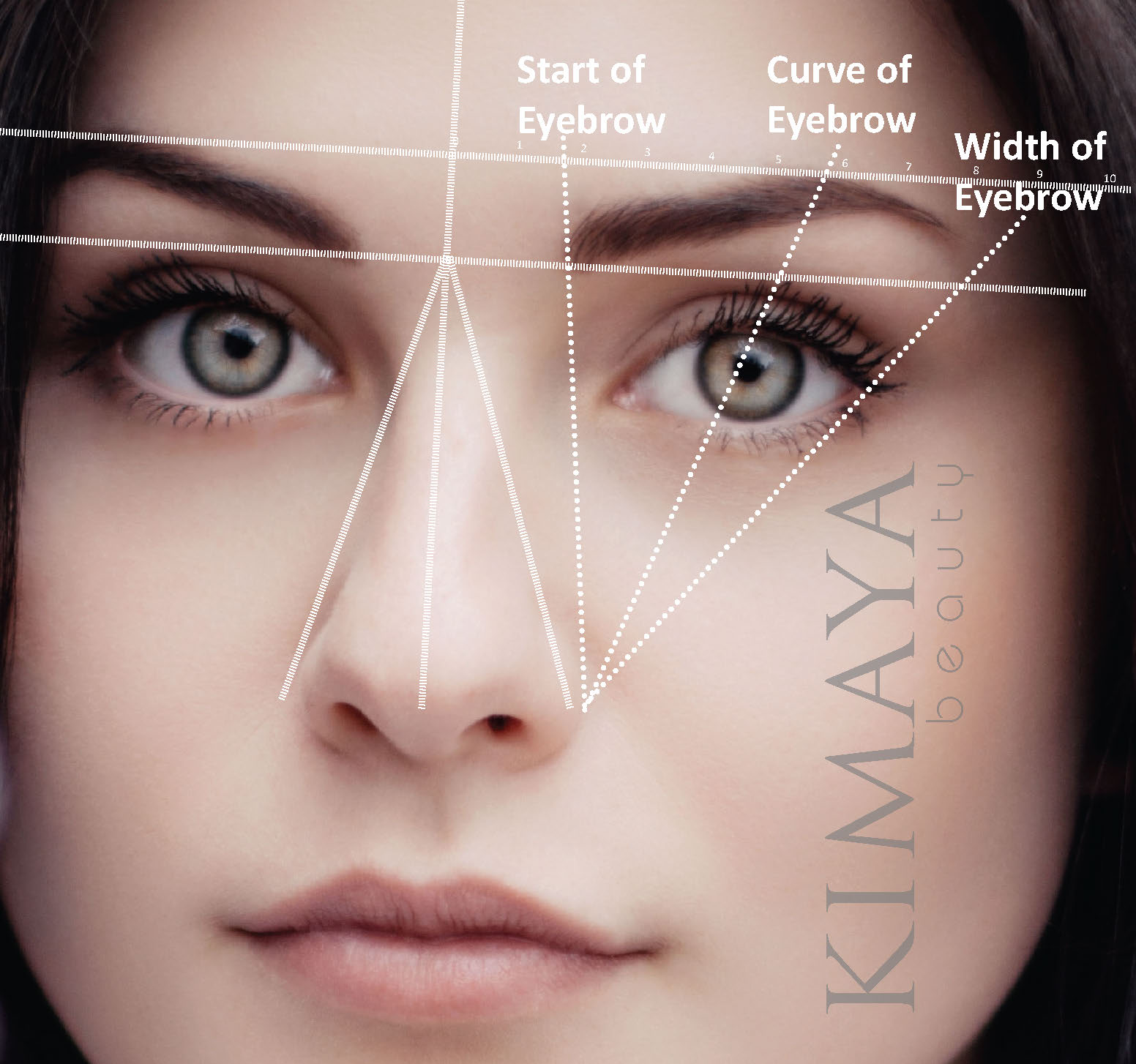 To book your appointment, call us today.
All about Perfect Brows
Over the years, eyebrow shapes have come and gone – but it's not until this year that they've featured so highly on our radar. It's fair to say we're a nation obsessed with brows; the bigger, the better. So how can you ensure your eyebrows are on point? We've discovered a hot new trend for beautiful brows. Keep reading for details on how you can benefit from Microblading.
What is Microblading?
For women wanting fuller, real-looking brows, microblading offers semi-permanent eyebrow tattooing king brows, microblading offers semi-permanent eyebrow tattooing.
How is it different to standard eyebrow tattooing?
Unlike eyebrow tattooing which uses a machine, microblading produces more natural-looking results as each 'hair' is brush stroked on one by one using a handheld device.
Who is it suitable for?
Microblading is suitable for many people, including those who have over-plucked their natural brows, those who have suffered from hair loss, those whose brows have never properly grown in, and those simply looking for fuller, thicker eyebrows.
How does it work?
Colour is applied to the dermis (surface layer of your skin) using a micro-pigmentation process. The handheld device creates 'brushstrokes' and as the depth and width of each stroke can be controlled, results in very fine, crisp strokes that look like real hair.
What happens during the treatment?
Your eyebrows will be threaded and filled in with a pencil to create an ideal shape. This will act as a template for the tattooing. Numbing ointment will be applied to the area which is then covered with cling film to help it sink in. This is removed and the microblading process can begin.
Is it painful?
Many women say they feel a slight scratch but any pain is minimal due to the numbing ointment.
How long does the treatment take?
The microblading process takes between 1-2 hours.
When can I see results and how long do they last?
Results are noticeable straightaway. After treatment, your eyebrows will look darker initially for a few days until the colour settles. The results then last from one to three years depending on your skin type and lifestyle.
Are there any after care guidelines I should know about?
You should avoid getting your eyebrows wet for the first week following treatment to allow the pigment to fully sink in. After three days, you may develop tiny scabs which will fall off naturally. Your brows will need to be touched up about a month after the treatment so any adjustments can be made, and again eight months later to correct fading from sun exposure.
Is there anyone who can't have Microblading?
This treatment is not suitable for women who are pregnant or breast feeding, or those who have any form of blood disease.
Is there anyone who can't have Microblading?
This treatment is not suitable for women who are pregnant or breast feeding, or those who have any form of blood disease.
Note- All eye liners include eye lash enhancement. Results of correctional procedures cannot be guaranteed as they are experimental in nature and success relies on the nature of the original application. Multiple treatments are often needed.
All treatments with the exception of maintenance and correctional include one free second application - top up upon re-evaluation within 3 months of initial treatment.
Book your free Consultation today!
Semi Permanent Makeup
Whether it's perfect eyebrows or an elegant eyeliner, you will certainly appreciate the long lasting benefits and convenience of semi permanent makeup. By enhancing your natural beauty, these treatments will give you the look, feel and confidence of perfectly applied makeup at all times, with minimal effort. All treatments are bespoke and tailored to suit your individual look and lifestyle.
Note- All eye liners include eye lash enhancement and all lip treatments include lip liner. Results of correctional procedures cannot be guaranteed as they are experimental in nature and success relies on the nature of the original application. Multiple treatments are often needed.
All treatments with the exception of maintenance and correctional include one free second application - top up upon re-evaluation within 3 months of initial treatment.
Book your free Consultation today!
Glo Therapeutic Facials
We have a selection of facials to suit all skin types. Facials are a great way to improve the skin's tone, texture and elasticity by counteracting the effects of air pollution and sun exposure, leaving your skin feeling refreshed and looking brighter. Regular facials can improve the way your skin looks and feels.
We use Glo Therapeutics skin care products in our facials which have only the finest and natural ingredients, with beneficial antioxidants, vitamins and minerals.
To book your appointment, call us today.
What is Microdermabrasion?
Medical Microdermabrasion is a non surgical method of rejuvenation by means of mechanical skin exfoliation without chemicals or laser. This quick and convenient treatment that can be used on the face, chest, back or shoulders to
Immediately restore smooth younger looking skin and is great for treating:
The appearance of fine lines, scars and wrinkles
Sun damaged and uneven skin tone
Acne prone skin
Blackheads
Whiteheads
Superficial age spots and Hyper-pigmentation
Book your free Consultation today!
Why shave when you can laser?
IPL Laser Hair Removal offers a convenient alternative to the hassle of regular shaving and waxing, with a single course of treatment providing patients with a permanent reduction in unwanted hair growth.
Statistics show as much as 95% of the hair targeted by a course of IPL Laser Hair Treatments is permanently removed. So you'll never be caught out by a stubbly shin or fuzzy underarm again! Not to mention Laser Hair Removal is an
effective treatment for ingrown hairs, leaving you to enjoy smooth, hairless skin year round.
What iS Ellipse Intense Pulsed Light
Ellipse is the latest technology in advanced permanent hair reduction.
How Does it work?
Ellipse emits variable beams of visible intense pulsed light (IPL) onto the skin. This light is absorbed by the
melanin in the hair and turns into heat energy. The follicle is heated to a temperature which alters the cells' structure and, providing the hair is in the Anagen growing phase, stops the hair regeneration. As the hair cycle varies on different parts of the body, and due to hormonal changes, the number of treatments required will also vary from client to client.
Is Ellipse safe?
Ellipse technology has full FDA clearance which is only granted to treatments that are clinically tested and proven to be safe and effective.
How does it feel
A slight warm tingling sensation best describes the feeling experienced during an Ellipse treatment. This is minimised by a special cooling gel that is applied just before the treatment starts. Ellipse is infinitely more comfortable than most conventional methods like waxing, laser and electrolysis.
What areas can be treated with Ellipse?
Unwanted hair can be removed from most parts of the body including legs, upper lip & chin, bikini line, under arm, back etc. The only areas that cannot be treated are immediately around the eyes and over tattoos and some moles.
Does it matter what type of skin I am?
Some less advanced IPL systems can only be used on a limited amount of skin types but Ellipse has been clinically proven to work on almost all skin types except very dark skin. Dark hair on light skin is the easiest to treat because the colour difference enables the light to be easily absorbed by the melanin in the hair, but Ellipse allows the Practitioner to adjust the settings to suit specific skin and hair combinations. Only white and grey hairs do not respond to any IPL or laser treatments.
How many treatments will I need? 
Generally on most areas of the body you may need between 6 – 10 treatments however this can vary from client to client. With regards to the face, hair growth on this area is usually stimulated by hormonal imbalances and other relating factors and we advise usually 10 – 12 treatments may be required to see a reduction in regrowth. In some cases, for no known reason, some clients may require further treatments and your Practitioner will monitor your treatment programme.
How much does it cost?
This will vary depending on the area that is being treated. A full consultation will be given in complete privacy by our qualified practitioner and the cost will be advised at that time.
We require you to have a compulsory free patch test at least 24 hours prior to treatment for all IPL treatments.
Book your free Consultation today!
Lycon Hot Wax & Strip Wax
Why Lycon?
Formulated with the finest natural resins, bees wax and sensuous aromatherapy, LYCON delivers superior results, removing stubborn hair as short as 1mm like no other. At the same time, LYCON low temperature, super pliable and gentle waxes, provide a nurturing and skin conditioning treatment for extra client comfort, even on the most sensitive skins. Professionals use LYCON with confidence, to achieve completely hair free results for all types of hair growth, every-time. LYCON enjoys unparalleled recognition worldwide for unsurpassed product quality, training and professional integrity.
In addition the LYCON Spa Essentials body care range provides corrective solutions for home use, in between salon treatments.
LYCON has been setting waxing standards on a global scale for decades and remains the market leader with many World First innovations.
To book your appointment, call us today.
Electrolysis Hair Removal
Electrolysis Hair Removal at The treatment
In the hands of a well trained electrolysist it is a perfectly safe and highly effective treatment. Electrolysis will work on (and is suitable for) ALL hair types and colours and ALL skin types and colours. For successful and effective results, each individual hair requires repeated treatments, therefore results are not immediate and take a little time, depending on the individual it may take only a few treatments or you could end up having treatments once a week for a few months.
What is the procedure:
A tiny needle (about the same diameter as the hair) is inserted down into a follicle opening already present in the skin.
The probe is charged with a tiny amount of electrical current and you will feel either a build up of warmth concentrated in the locality or a sensation similar to a slight sting. Sensation depends on the area and the method of epilation used.
The hair is gently released from the follicle with tweezers leaving the client hair free. The hair slides out easily without traction.
The procedure is repeated on each individual unwanted hair to clear the area as much as possible within a given time frame whilst taking skin reaction into consideration.
The next appointment will be made so that regular treatments are maintained. Electrolysis is the only permanent method of hair removal.
You may experience some redness/heat in the area, soreness after the treatment.
Unwanted hair causes enormous distress, as anyone who has suffered with it will understand, and often brings with it a sense of isolation, low self worth and poor-self esteem.
Unwanted hair can be genetic or inherited or one of the symptoms for disorders such as polycystic ovary system.
There are also many medications and drugs that cause or stimulate unwanted hair growth as well as hormonal changes within the body such as during puberty, pregnancy and menopause.
It is often in the case that electrolysists are privileged to witness a dramatic transformation in their clients, from a self conscious, deeply demoralised individual at the beginning of a course of treatments, to confident and happy individual once treatment is under way and making progress. Many women and indeed many men have benefited from this tried and trusted treatment.
Electrolysis is not recommend for all over the body, due to the procedure we recommend only treating small areas, such as lip, chin, neck, abdomen.
Book your free Consultation today!
About Thread Veins
Thread veins are extremely common and completely harmless but frequently embarrassing. They are tiny twisted red blood vessels that run close to the surface of the skin making them visible. Also known as spider veins due to their cobweb like appearance, as well as broken veins; however the veins are not actually broken, only slightly enlarged, known medically as telangiectasia. The most common areas of the body to experience thread veins is on the face and legs.
While both men and women can be affected by thread veins they are far more prevalent in women. By their 40s nearly half of all women will be affected, and they become increasingly more common as we age.
Thread vein removal treatment
IPL is a non-invasive treatment that can be used to remove thread veins on the face, body and legs quickly and effectively. Thread vein removal treatment will remove fine and large thread veins approximately 1-3 mm in size.
How are Thread Veins removed
The IPL light passes safely through the skin which is readily absorbed by blood vessels, but not by the surrounding skin, heating them to point where the blood in the targeted blood vessel coagulates.
This causes the vein to break down. The damaged veins are gradually dissolved and removed by the body's immune system, fading over several weeks after treatment leaving little or no trace of the original lesion.
Two or three sessions is usually all that is needed to leave your skin feeling smooth and blemish-free, however we recommend on average 5 treatments to ensure the best results for you.
Benefits of Thread Vein Removal
Many of the benefits experienced from thread vein removal and vary from client to client, however, the most common are:
Improved self-confidence
Confidence to wear a wider variety of clothes
One of the fastest treatments
No downtime - you can carry on with your daily activities
Non-invasive treatment
More effective than other methods.
Following your Thread Vein removal
IPL thread vein removal does not have any downtime, however as with all treatment we recommend that you take care of the treated area for at least 24hours following your treatment.
There may be some localised redness, swelling and mild itchiness following your treatment, which normally subsides within 24-48 hours. If you experience a slight redness and warmth on the skin use a soothing aloe vera gel on the affected area.
Avoid creams, oils, irritants, and perfumed products for 2 days.
Avoid extremes of hot or cold - including baths - for a few days. Use an SPF on the treated area immediately following laser treatment as the skin may be a little more sensitive to UV light
Please be aware that in some instances the veins may initially appear worse before they improve.
Book your free Consultation today!
Professional Makeup for any Occasion
Professional Makeup for any Occasion
If you are a bride to be, or just have an important event coming up, why not let us take care of your make up?
We use professional brands of make up, which enhances your skin to achieve a beautiful end result for our clients. Whether it's a wedding or a special event, we can help you achieve that flawless finish.
To book your appointment, call us today.
Bridal Makeup
I love working with my brides to create a beautiful wedding day look that enhances your natural beauty.  Using premium brand products such as Nars, Inglot, Bobbi Brown and MAC, I will ensure that you are looking your absolute best on your special day.
As a professional beautician and makeup artist with decades of experience, I can provide to you professional advice on you skincare to give you an amazing glowing look on your wedding day.
To book your appointment, call us today.
Special Occasion Makeup
Whether you are attending a wedding, a corporate event, graduation ceremony or special party, I can create an
appropriate look that will ensure you feel fabulous, I believe makeup should be used to enhance your natural beauty and not to hide it!
School Prom Makeup
Prepare to arrive beautiful and steal the limelight at your party with professional makeup applied for your special
memorable evening.
To book your appointment, call us today.